Custom Off-road Vehicle Site Construction
Tonghe Heavy Industry's new white customized off-road vehicle was successfully delivered to Nanjing Yuan Leasing, and immediately entered the construction site to work.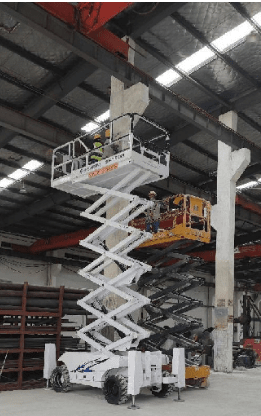 The white customized model this time is an off-road model newly developed by the company, with beautiful appearance, superior performance and strong power. All-terrain, all-road driving, large ground clearance, unimpeded, off-road solid tires, stable operation. The outriggers can be leveled with one button, maneuverable and flexible, and are suitable for various wild and harsh environments.
The 12-meter off-road uses 26X12-16 off-road solid tires, which have strong grip, wear resistance, long life and stable operation. And the minimum ground clearance reaches 0.3 meters, driven by two 3.5KW AC motors, the power is strong, and it can easily pass through multi-obstacle roads; 30% climbing ability, no fear of slopes, one-key leveling of outriggers, flexible and maneuverable. The driving speed is 6.5 kilometers per hour in the storage state, and it can carry out long-distance and large-span operations outdoors.
The 12-meter off-road aerial work platform adopts 48V320Ah lithium battery, pure electric design, energy saving and environmental protection, no noise, zero emission, long battery life, long working cycle, and improved work efficiency. The battery is maintenance-free for life, saving costs for users.
Get the latest price? We'll respond as soon as possible(within 12 hours)